THE STORY
Launched by the Biotech Corp company, the Crawlers project was about to create a race of giant insects, for using as war machines in conflicts.

The first experiment was a disaster : the ants who were created killed all the population of Crosspole, the city of the Biotech Corp employees.

After the failure of a first commando, too easily located by the crawlers, the company decided to hire a lone warrior.

You are Adam Stolker, special agent sent on the set to take control back.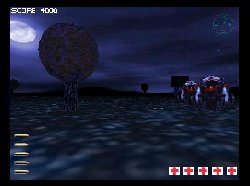 LATEST NEWS
12 mar - Playable Demo 1.0 is now online ! Survivor mode is totally operationnal, with nice bonuses to unlock.
The town is not entirely built yet, but it's now the primary objective of the development..

9 feb - AngelSan, active groupie of the project, made a very first goodie from the game : a pretty nice red and black Crawler Ant, wich is so far the only Crawler that you will battle in the game.

3 feb 2005 - Voices recording session with Fanny and Sophie, for the bonuses of the survivor mode.

20 oct - The very first teaser of the survivor mode is now online. The playable demo will follow very soon.
See the teaser (right click to download).

12 aug - In addition of the main game mode, named "mission", a survivor mode will be set, all in frenetic action and fight for the best score.

07 aug 2004 - Start of the development of CRAWLERS, the first project from Arcade Feeling, under DarkBasic Professional. It will be the first gun shooting game where you can move using a dance mat, for a complete immersion into the action !